Men's* Officers – Adam Hawkins and James Thomson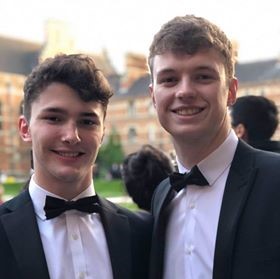 Hi all!
We are James (2nd year PPE) and Adam (2nd year Chemistry), and we are your men's* officers. Our role is to organise events with the aim to make everyone's experience at the Hall as enjoyable as possible. We want everyone to be included, and so produce a variety of fun and social events that are both drinking and non-drinking, as well as welfare events. We are always present around college, and so will always be there as a point of contact for anyone who has any issues, concerns, or even just wants a chat! Our goal is to create as great as an experience as possible, for as many as possible, so that everyone can feel right at home at the Hall.
If anyone has any questions feel free to contact us at james.thomson@seh.ox.ac.uk or adam.hawkins@seh.ox.ac.uk.