SEHBC (St Edmund Hall Boat Club)
SEHBC is well known for its strong performance and welcomes many new members each year. Teddy Hall Boat Club is open to towers of all abilities, whether you've had a go in the past or are completely new. The majority of rowers only start when they arrive at university or at some point during their degree.
Our men's side regularly enters 4 boats into the intercollegiate races and our women's side enters 3. Our more advanced boats often win 'blades' – being faster than the college boat in front of you on every day of racing. Even if you've never rowed before, novices often become captains and end up in the fastest boat at the end of their time at Teddy Hall.
Our boat club all has a great social scene, with regular crew dates (dinners with other college boat clubs), BBQs and black tie dinners after the termly races (Christ Church regatta, Torpids and Summer VIIIs) as well as lots of other social events. Furthermore, our women's side even goes on tour in the winter term vacation which is a great opportunity to bond!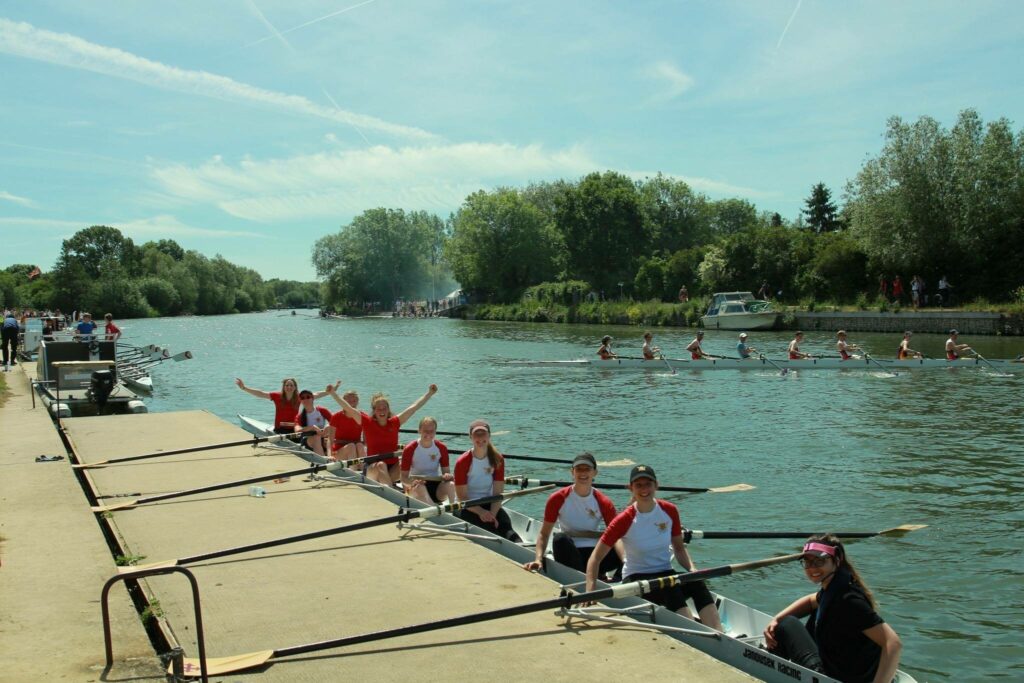 Men's side:
The men's side of SEHBC has something for everyone. Our first boat currently sits at 5th overall in Summer Eights – the main regatta in Oxford. With a strong core of returning rowers and newer faces, we're looking to get even better. The vast majority of rowers and coxes begin from scratch when they arrive as a fresher, and Teddy Hall is the perfect place to do that! We have a great coaching and training structure so that those who want to can aim for the highest boats, even in their first year. Our second and third boats are great for those wanting to row more occasionally or are just looking for some fun. The lively social scene helps bring everyone together in the evenings and really helps maximise enjoyment. We pride ourselves on our inclusivity and commitment to both enjoyment and improvement, making rowing a great experience both on and off the river.
Women's side:
The women's side of the boat club is focused primarily on inclusivity, and we would love everybody to give rowing or coxing a go at least once! We work as a team, and the feeling of comradery within the team is incredible! With training camps in Italy, external regattas, and member-led circuit training; rowing or coxing with Teddy hall allows you to go beyond rowing on the Isis! The women's side has increased in numbers 3-fold over the past 2 years, and despite the lack of water rowing this year, we still trained together and held socials over Zoom! When we could still row this past year, the women's side managed to win the IWL regatta, and New College Indoor regatta! Teddy Hall boat club has a big focus on improving performance, but we make sure that every person in the boat is enjoying their training and getting whatever they can out of the boat club.