Welfare Officers – Katie Kirkpatrick and Greg Halliwell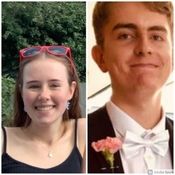 Hi I'm Katie, one of the welfare officers for the JCR. Greg and I work alongside college welfare staff and peer supporters to run fun welfare events throughout term, and to listen to any welfare issues or concerns that you might have.
You're always welcome to send me a message/email for a chat about anything you want to talk about (hopefully with a cup of tea once lockdown eases!), or about any questions/requests you might have about welfare provisions in college. Please don't hesitate to get in touch!
katie.long@seh.ox.ac.uk
jcr.welfare@seh.ox.ac.uk
Hey Hall! My names Greg and I am a fourth year medical student. I am welfare officer alongside Katie! We will be running lots of events and initiatives to improve student wellbeing around college, as well as providing personalized support for students who are struggling. If you want to discuss any welfare issues, or just want a friendly face to talk to, me and Katie are always willing to help! Feel free to contact me on Facebook or at Gregory.halliwell@seh.ox.ac.uk